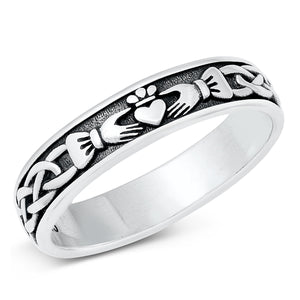 Solid 925 Sterling Silver Irish Celtic Claddagh Ring Band Size 5-10
Regular price $39.99 Sale
925 Sterling Silver Irish Celtic Claddagh Band
The Irish Claddagh symbolizes Love, Loyalty and Friendship

This ring is accented with a Celtic Weave of Eternity design 
The Claddaghs distinctive design features two hands clasping a heart, and usually surmounted by a crown. The elements of this symbol are often said to correspond to the qualities of love (the heart), friendship (the hands), and loyalty (the crown). A Fenian Claddagh ring, without a crown, was later designed in Dublin. Claddagh rings, with or without the crown (most commonly with a crown), have come to denote pride in Irish heritage, while continuing to be symbols of love and marriage.

Claddagh rings may be used as friendship or relationship rings depending on the intention of wearer and, in the case of a gift, of the giver. There are three traditionally accepted ways of wearing the ring which may signal someones relationship status:
1.When worn on the right ring finger with the heart pointing to the fingertip, the wearer is free of any attachment.
2.On the same finger but the other way round, with the heart pointing away from the fingertip, it suggests someone is romantically involved.
3.When the ring is on the left hand wedding ring finger, it means the person is married or engaged.
This gorgeous ring was handcast by me in my studio from solid stamped nickle free 925 Sterling Silver.
Antiqued Finish to bring out depth and detail of the design

The band measures approx. 0.2" wide
Weight approx. 4 grams depending on ring size.
The ring can be custom sized from size 5 up to size 10 for no additional charge.
Jewelry Gift Box