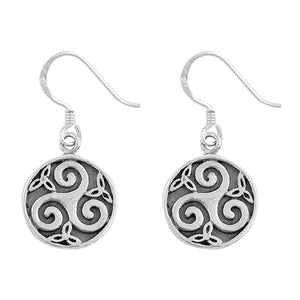 925 Sterling Silver Celtic Triskele Triple Spiral Triskelion Dangle Earrings
Regular price $34.99 Sale
Handcast 925 Sterling Silver Celtic Triple Spiral Triskele Dangle Earrings
The Triskele or Triple Spiral is a complex Celtic symbol which can often be seen referred to as a triskelion. This ancient symbol is one of the most convoluted to decipher as symbolists believe it is reflective of many areas of culture from the time.

Firstly the triskele can be thought as to represent motions, as all three arms are position to make it appear as if it is moving, and movement or motion is believe to signify energies, in particular within this Celtic Symbol the motion of action, cycles, progress, revolution and competition.
Secondly and the more challenging area for symbolists is the exact symbolic significance of the three arms of the triskele, which can differ dependent on the era, culture, mythology and history, which is why there are so many variations as to what these three extensions in the trickle symbol mean.
Some of these connotations include: life-death-rebirth, spirit-mind-body, mother-father-child, past-present-future, power-intellect-love and creation-preservation-destruction to name but a few.
It's thought that through the combination of these two areas we gain one meaning of the Celtic triskele, which it is believed represents a tale of forward motion to reach understanding. However this is thought not to be the only meaning, as it is also believed to represent three Celtic worlds; the spiritual world, the present world, the celestial world.
The Celtic Trinity Knot stands for Protection and Inner Strength
Earrings Length including ear wire approx. 1" (length without ear wire approx. 0.5"); Width approx. 0.5"
Weight per pair approx. 4 Grams
Jewelry Gift Box