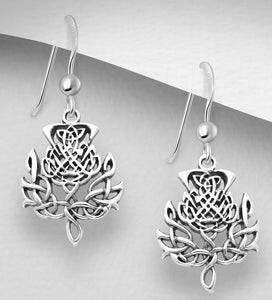 Handcast 925 Sterling Silver Scottish Thistle Dangle Earrings
Regular price $34.99 Sale
Handcast 925 Sterling Silver Scottish Thistle Dangle Earrings
The Scottish Thistle is the national flower of Scotland.

According to a legend, an invading Norse army was attempting to sneak up at night upon a Scottish army's encampment. During this operation one barefoot Norseman had the misfortune to step upon a thistle, causing him to cry out in pain, thus alerting Scots to the presence of the Norse invaders.
This piece was handcast by me in my studio from solid stamped nickel free 925 Sterling Silver.
Length including ear wire approx. 1.1"; Width approx. 0.55"
Earrings come on 925 Sterling Silver French hook style ear wires
Weight approx. 2.5 Grams each
Gift Boxed